4 Simple Goals for July
8:44 PM
Another month gone by again?

Where is the summer going?!

Before I look ahead to July, I think I should slow it down and look back at June…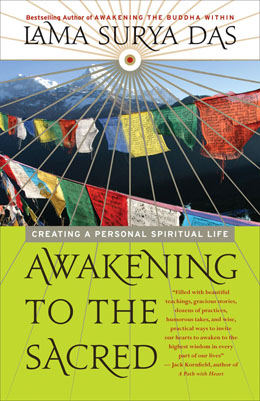 Reading:

Outside of the required reading for my two summer classes, I've been slowly making my way through Awakening to the Sacred by Lama Surya Das.

The frenetic pace of May made me realize that when I get caught up in details, I forget about so many more important things.

I've had this book around for the last year, and while I am not a Buddhist, I find it a helpful way to refocus my attention.
Listening To:

The National's new album Trouble Will Find Me.

The National was a band I knew about but didn't really listen to, until I watched the (kind-of corny, but totally awesome) move Warrior.

You can't possibly watch that last scene with "About Today" playing in the background and not tear up.

Go ahead, just try it.

New album = mellow goodness.
Making:

Sweet and spicy veggie sauce for summer vegetables.

I'm a summer vegetable fan – fresh carrots, kohlrabi, radishes!

Tangy wonderfulness!

And a great sauce I stole from Rick Bayless: 2 parts apricot spread, 1 part choula hot sauce, and a bit of lime juice.

Make it as hot or sweet as you like and enjoy.
Watching:

The Tour and World Cup Mountain Biking, duh!
And my 4 Simple Goals for July:
1.

Finish my classes strong.

I've only got two weeks left, and more work to complete than I can even comprehend right now – but I want to finish everything up well.

I have a tendency to rush through things when I get close to the end…not a good idea when there are finals on the line.
2.

Enjoy The Tour…as much as one can enjoy it without Fabian being there.

Seriously, I respect his desire to prepare for the World Championships, but he has to understand that he is about 52% of the reason why I sit through all those boring stages…
3.

Turn my attention to the garden…apparently there are these things called "weeds" that tend to grow out of control when you turn your back.

We are not the worst house on the block, but we are getting close…
4.
Stay away from cable television.
I know you are not supposed to write goals in terms of what you
don't
want to do, but cable is a new presence in our household (with NBC Sports' stranglehold on The Tour and the EPL, they forced our hand).
Now that it is here, I have to admit I have an HGTV problem.
Clearly I would much rather watch people fixing up houses than actually pay attention to my own house…